[crammed] GET READY TO SKIP&DIE

EJN Administrator | CD News | 2012-10-30
[crammed] GET READY TO SKIP&DIE


OUT NOW!
"Riots in the Jungle"
the new album by the sensational new genre-blending band:
SKIP&DIE
Available for order at the Crammed Discs Shop.

"Riots in the Jungle" was written by South African vocalist & visual artist Catarina Aimée Dahms (aka Cata.Pirata)
and Dutch musician & producer Jori Collignon while they travelled through South Africa's Soweto, Johannesburg, Cape Town and Gugulethu,
collaborating along the way with some of SA's most inspiring music makers on the rise.
The album portrays their experience of blazing sun, dusty roads, township shacks, cockroaches, skulls, bones and lovebirds.
It contains songs in English, Afrikaans, Xhosa, Zulu, Spanish and Portuguese.

After an initial string of explosive shows and the release of a limited-edition single on a small Dutch label,
garnering SKIP&DIE a devoted following, the pair set out to record a full-length album. Catarina –
who has never lost touch with her homeland, where she often makes extended stays –
wanted to write and record basic tracks in South Africa. After extensive research,
she reached out to a series of young, up-and-coming musicians she wished to collaborate with:
rappers, rockers, electronic and tradional artists. SKIP&DIE soon embarked on an road trip
in the regions of Capetown, Johannesburg & more, spending a couple of days
with each of those collaborators, on their own turf, in order to write/record a track with them.

Catarina and Jori describe this adventure as "a magical experience" which lasted for two months,
during which they met and worked with young South African peers such as vocalist Gazelle
(with whom they share a common love for intertwining politics and dance music),
hip hop crew Driemanskap, rappers Emza & Magebz, experimental rock musician
(and BLK JKS collaborator) João Orecchia, the Season Marimba Stars & more.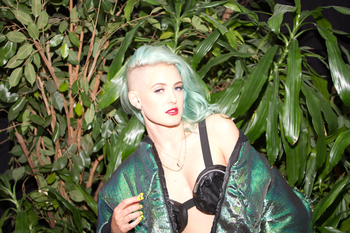 Initial press quotes :

SKIP&DIE make a bolshy good time carnival ruckus thats a bit like a less moany MIA.
New single, 'Love Jihad', chucks in klezmer clarinet, all sorts of crazy bass
and a clutch of hiccupping vocal stutters that hit the spot nice as ice cream on a blazing sunday
SupaJams - UK

A very own and unique sound that is fresh, urban but also in some way very traditional.
Definitely a band that is worth the hype which will probably arise soon.
Nothing But Hope And Passion - DE

'Love Jihad' opens akin to walking through Lower East Side on a summer afternoon with field recordings
of birds hiding in the background of duetting clarinets. The mood is quickly ramped up with chopped vocals,
carnival weight drums and a wonky synth line sounding like a peak time sound clash between Sinden and Diplo.
The pace is relentless with a maximal assault of ideas and sounds creating a thick sonic wall
for Cata's confident vocals to stand upon. It's rowdy yet never brash with its mix of world club and political lyrics.
Beats and Beyond.com

SKIP&DIE's performance is intensely cool: South African rap, filthy beats and a lot of bass.
The prominent front woman Cata.Pirata explodes on stage and spits fire.
The audience and admirers certainly appreciate every bit. MIA better watch out!
3Voor12 - NL
Be sure not to miss their incredible live show at one of their upcoming concerts!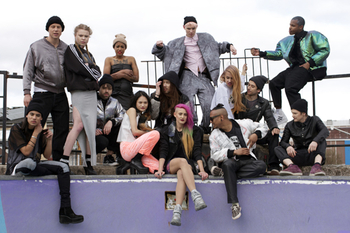 Live Dates:
---