The 26th April Jazz, Espoo, Finland, 25–29/4/2012

April Jazz Espoo | Festivals & Clubs news | 2012-03-18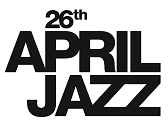 April Jazz brings the spring
The 26th April Jazz continues a strong jazz heritage of it's founder Mape Lappalainen, who passed away this summer. The most interesting domestic and international artists will meet again at the heart of Tapiola, Espoo.

Many of the artists will perform brand new material and several album release concerts are to be heard. This year April Jazz is introducing a format, where movie meets music in a new way. In the opening night of a new festival venue Kino Tapiola, a new film by Saara Cantell, Stars Above, will be shown. In the soundtrack version made for April Jazz, you will only hear the dialogue of the movie, the music composed by Sid Hille, will be played live. Before the film starts the band will warm up the audience to the right athmosphere.

Welcome to April Jazz!